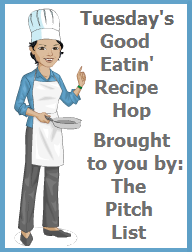 Welcome to the Good Eatin' Recipe Hop
hosted by
The 'Pitch List' Bloggers
Every Tuesday you can join us to share great recipes………
There are no specific themes.
Add your recipe of choice to the linky.
No Giveaways Please…all giveaways will be removed.
We Love Comments! Please Share!
My favorites from last week:
I've been trying to eat a lot more veggies, and different veggies (Before this year, I really only had about 5 veggies that I'd even try. Yes, it took 40+ years to get over being that immature and picky!). I'm looking forward to trying these Baked Parsnips from Save More Spend Less with Heidi. They look so good!

I'm a huge fan of bruschetta, and I just got a bunch of tomatoes from Bountiful Baskets that are just itching to be made into this tasty treat!  Try Our Fave Bruschetta from Our Mini Family.