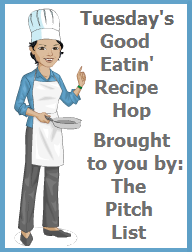 Welcome to the Good Eatin' Recipe Hop
hosted by
The 'Pitch List' Bloggers
Every Tuesday you can join us to share great recipes………
There are no specific themes. 
Add your recipe of choice to the linky.
No Giveaways Please…all giveaways will be removed.
We Love Comments! Please Share!
This week, only one of my favorite recipes is really "diet friendly" – so I don't think I dare actually make these.  But not everybody is on a diet, so I've gotta share.  They just look too good!
First the diet friendly selection, this Oven Roasted Broccoli from Savvy Saving Couple looks amazing!  And I just got some great fresh broccoli, so I've got all the ingredients for once.
Someone has to try this Quick & Easy Alfredo Sauce from A Mom's Take and let me live vicariously through you, ok?
And we've all been seeing the Girl Scouts tempting us lately.  This Copycat Tagalong from A Dash of Sanity looks too good.  Wonder if I could save the dough in the freezer and just bake one at a time to save myself from eating the whole batch?